About us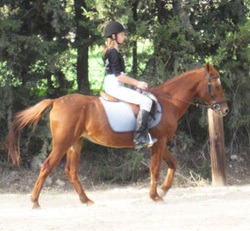 Moutagiaka ranch was established back in 1984 by Mr. Nikos Charalampous carrying more than 40 years of experience on different species of animals, and has being acknowledged as one of the first riding schools in the island. The ranch is located only three kilometers away from Limassol tourist area and ten minutes driving from city center. Just 200 meters from Limassol - Nicosia high way with an easy access for all kind of vehicles and not a 4WD car needed to approach during all seasons.

Cyprus hospitality is one of the strong elements that you enjoy of while you and your family spending your time there for a Birthday party, a riding lesson or just for a relaxing day out.

Our installations are regularly maintain and monitoring by the appropriate Government departments in order to insure your health and safe stay in our premises.
So all you have to do is enter your car and make your way to Moutagiaka Ranch and leave the rest to us!!! Our experience regarding horse riding and all country activities guaranty you and your family all the best.

One of our most popular services offering from us for decades is horse & carriage rentals. With the well known and beautiful Cinderella carriage you can make the most important day of your life even more beautiful and enjoyable. To the church for your wedding day ,for film shooting or for any other need Cinderella horse & carriage or other types of our fleet can insure that you will be satisfied and carry you to your destination comfortable and safe, leaving you behind a taste of a nice experience and a lot of memories to talk about.


---